Remove Security Defender PRO 2015 (Removal Instructions)
Removal, Trojans on

Friday, March 27th, 2015
in
Should I Remove Security Defender PRO 2015

?

Security Defender PRO 2015 is a rogue anti-spyware tool, which is a clone of the notorious Malware Defender 2015 and Antivirus Defender 2015 rogues. To put it bluntly, this tool is a fake AV tool that attacks your operating system and does everything in its power to use you so as to generate profits for the people behind it. Because that's its primary objective – to make money off of you. Don't think even for a second that it was designed to help you. As soon as Security Defender PRO 2015 slithers its way into your system, it starts performing daily scans and then displays the results, which are always horrifying. The tool does these scans whether you agreed to them or not. You have no say in the matter. The same goes with the results. Each time the tool checks your system, it displays horrendous findings. It claims that your computer is brimming with all sorts of threats, and even stops you from running executable files. If you're unsure what that means, it's simple. You won't be able to launch web browsers, Registry Editor, Task Manager, as well as any other Windows utilities. Aside from being utterly infuriating. Naturally, there's a reason behind this action. This supports Security Defender PRO 2015's claims that you were infected with malware, and also helps to convince you that your only hope of saving your system is the licensed version of the bogus AV tool. Do not trust Security Defender PRO 2015! Don't fall victim to its schemes and do whatever it takes to get rid of it the first chance you get! You'll spare yourself a ton of headaches and troubles.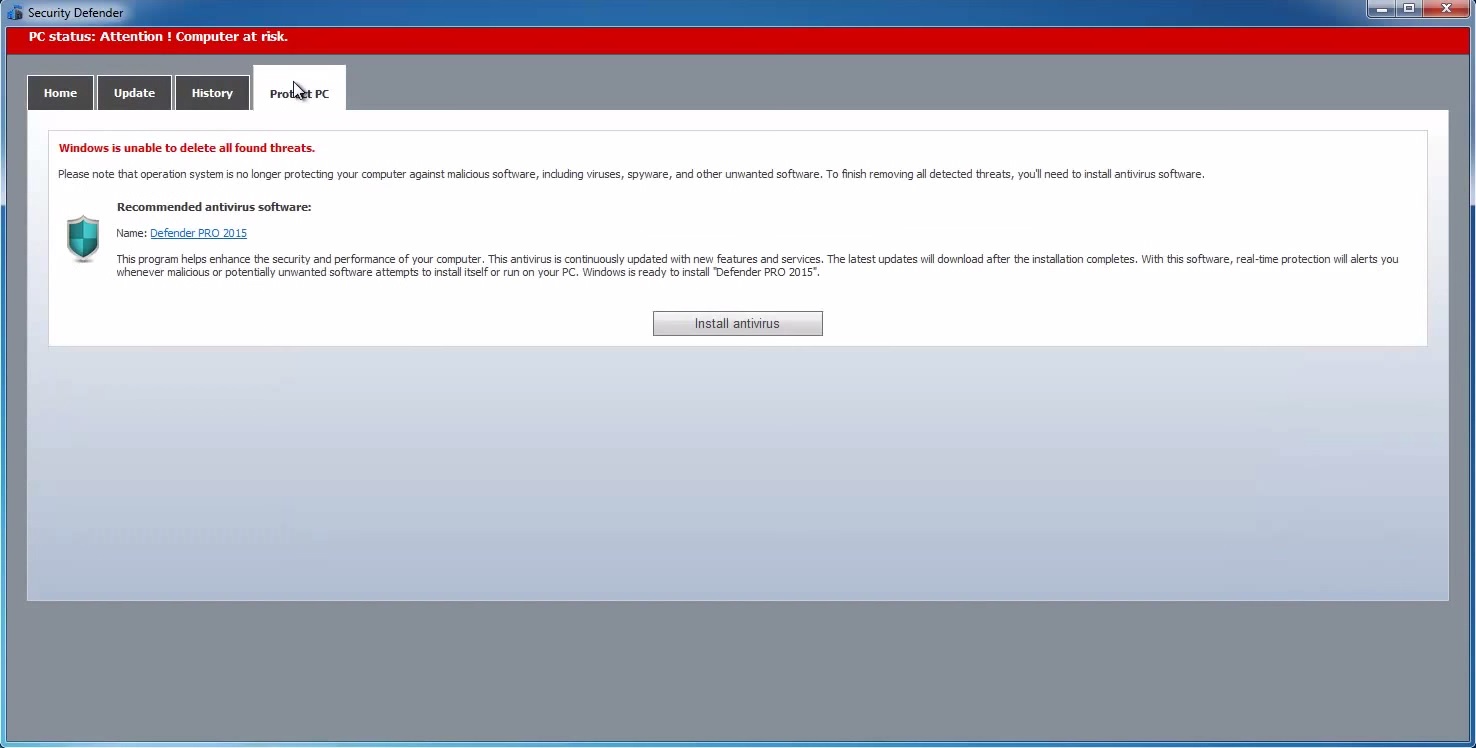 How did I get infected with?
Security Defender PRO 2015 sneaks into your PC by resorting to deception and finesse. It's so resourceful that it not only dupes you into allowing it in, but also keeps you oblivious to the fact that you did. You only become aware of the mistake you'd made after it starts doing the daily system scans. More often than not, it hitches a ride with freeware as it provides possibly the easiest access point. That's because users tend to rush its install process and just agree to all the terms and conditions, without actually reading them first. If you give into haste, naivety, and distraction and allow them to guide you, don't be surprised when they lead you to regret. Be more careful and don't rush, and maybe you'll avoid dealing with Security Defender PRO 2015 and the issues it will inevitably cause. Other methods of invasion, the tool often turns to involve the use of spam email attachments, corrupted links, or websites. Also, it can pose as a false system or program update, like Java or Adobe Flash Player.
Why is this rogue dangerous?
Security Defender PRO 2015 is presented as a helpful tool that keeps your computer safe from threats. Unfortunately, as it is with many things nowadays, reality of what you get quite differs from what you were initially promised. Once you look past the sugary layer of advertisement, it's evident that this AV tool IS the threat you should be worried about. Security Defender PRO 2015 is utterly bogus, and the results it shows you are completely made-up. For one, the tool is not even capable of performing system scans! That's right. Everything it shows you, as a result, is false, and it's displayed with one purpose – to scare you. Yes, Security Defender PRO 2015 wants you to panic when you see the dozens of threats lurking on your PC because when you're panicking you're easily susceptible to suggestion. And the tool's suggestion is to agree to activate its licensed version, so it can fix your troubles and make all the issues go away. It claims that the version you're using now can only show you the threats, but not get rid of them. And, that is why you need to turn to the paid version for help if you wish to protect your PC. Do NOT fall for that! It's an empty promise that will only lead to more damages. Protect yourself and your computer, and don't allow Security Defender PRO 2015 to mess it up! Don't place your faith in something bogus and utterly useless. Remove this malevolent tool from your system as soon as you possibly can.
Security Defender PRO 2015 Removal Instructions
Start Your Computer into Safe Mode with Networking
Make sure you do not have any floppy disks, CDs, and DVDs inserted in your computer
Restart the infected computer
When you see a table, start tapping the F8 key every second until you enter the Advanced Boot Options
in the Advanced Boot Options screen, use the arrow keys to highlight Safe Mode with Networking , and then press ENTER.
Once the operating system loads press simultaneously the Windows Logo Button and the R key.
A dialog box should open. Type iexplore www.virusresearch.org/download-en
your browser will open and a professional scanner will start downloading
Follow the instruction and use the professional malware removal tool to detect the files of the virus.
After performing a full scan you will be asked to register the software. You can do that or perform a manual removal.
To perform Manual removal you need to delete the following files:
Open your Windows Registry editor and navigate to
and the following registry keys:
HKEY_CURRENT_USER\Software\Microsoft\Windows\CurrentVersion\Run""= "%AppData%\.exe"
HKEY_LOCAL_MACHINE\Software\Microsoft\Windows\CurrentVersion\Run""= "%AppData%\.exe"
HKEY_CURRENT_USER\Software\Microsoft\Windows\CurrentVersion\Policies\Associations "LowRiskFileTypes"=".random"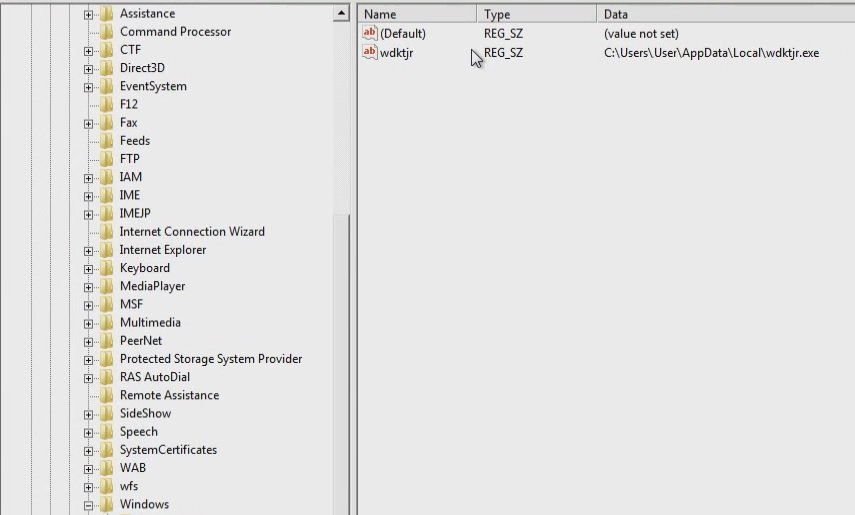 Then open your Explorer and navigate to
%UserProfile%\Programs\AppData\local\wdkjr.exe
and delete it
Use the built in msconfig windows program to make sure you disabled all execution points of the virus. Please, have in mind that the file names in your machine will be different as they are generated randomly, that's why you run the professional scanner to identify the files.
This infection may also damages the Security Center (Wscsvc) Windows service. Once the infection is removed, you should repair these services manually.