Remove Antivirus PRO 2015 (Removal Instructions)
Removal, Trojans on

Friday, March 27th, 2015
in
Should I Remove Antivirus PRO 2015

?

Antivirus PRO 2015 is a new rogue anti-spyware tool that's plaguing Windows users. In other words, this is a fake AV tool that's claiming to be the real deal. It enters your system very slyly and subtly, but once it's in, there's nothing subtle about it. You will be subjected to daily system scans, whether you like to or not. And each time the scan will show you horrifying results. It will claim that your PC is brimming with threats, that nothing you have on it is safe to use. According to it, even Paint and Calculator are filled with Trojans. However, don't trust this tool as it is completely bogus as are the results it displays. It's only showing you these made-up system errors in an attempt to cause you to panic and agree to activate its full version, which, of course, costs money. Don't fall for that! Not only is Antivirus PRO 2015 incredibly obnoxious, but it's also hazardous and damaging. It places your privacy in grave jeopardy and tricks you into spending money you could spend on something much more useful. Or even burn as that would be a better alternative than buying the tool's full version. Do yourself a favor and get rid of Antivirus PRO 2015 as soon as you possibly can.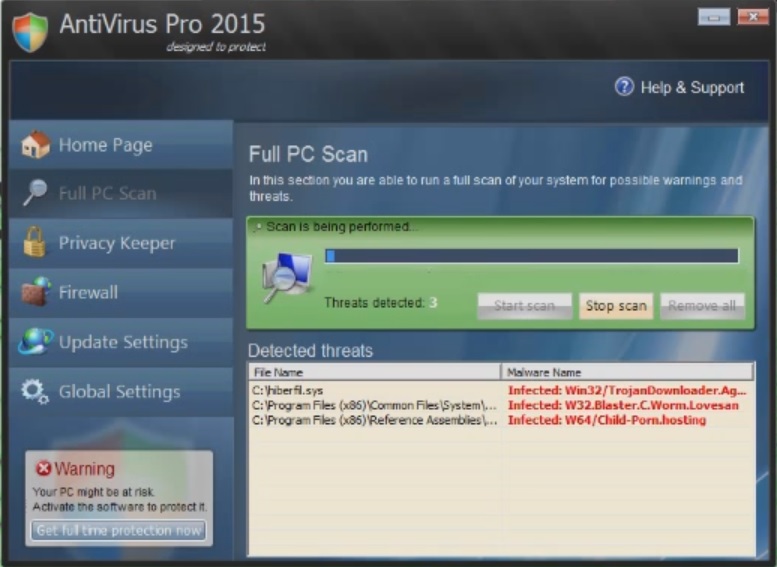 How did I get infected with?
Antivirus PRO 2015 resorts to the usual antics so as to gain access to your system. It's incredibly resourceful and highly skilled in the arts or deceit. It is so masterful in its trickery that it not only dupes you into permitting its installation and allowing into your computer, but also manages to keep you oblivious to the fact that you did. More often than not, it slithers its way in by resorting to the old but gold methods of invasion. The tool hitches a ride with freeware or hides behind spam email attachments, corrupted links, or websites. Also, it can pretend to be a bogus system or program update. For example, while you're thinking that you're updating your Java or Adobe Flash Player, in actuality, you're giving the green light to this malevolent, intrusive tool. If you wish to avoid having to deal with Antivirus PRO 2015and its ever-growing daily messes, be sure to be more careful and not in a rush! All of its ways of infiltration rely on haste, naivety, and distraction, so don't provide them. Remember, a little extra attention can go a long, long way.
Why is this rogue dangerous?
Antivirus PRO 2015 may claim that it's a helpful tool that will keep your system safe from threats, but don't fall victim to its schemes. Once you look past the smoke and mirrors of marketing, it's quite evident that these assertions are bogus and unfounded. Why/ Well, because Antivirus PRO 2015 IS the threat. First of all, these daily scans it performs, well, you should know that they are made-up. As are the results. That's because tools like this one are incapable of doing scans. So, these dozens upon dozens of security issues it shows you are false, and you needn't panic. In fact, that's what the wool wants in the first place. It wishes to frighten you so much that you panic, and it can use you in order to make money for the third parties that support it. After it shows you the results and informs you that your computer is jam-packed with threats you didn't even know you could be infected with, it proceeds to provide a solution to your problem. The tool states that if you desire to protect your PC and get rid of the threats, all you have to do is active its licensed version as the one you're using right now can merely point out the issues, but not fix them. Do NOT agree to that! This "licensed" version is just as bogus as the one you're already using. And, even if it doesn't bother you that you spent money on something utterly useless, you should know that it's also highly dangerous. Antivirus PRO 2015 starts collecting information from you as soon as it invades your system. It keeps track of your browsing activities and catalogs your every move until it feels it has enough. Then it sends it to the unknown individuals behind it. That means strangers will have access to your personal and financial information. Are you
Antivirus PRO 2015 Removal Instructions
STEP 1: Start Your Computer into Safe Mode with Networking
STEP 1: Start Your Computer into Safe Mode with Networking

Make sure you do not have any floppy disks, CDs, and DVDs inserted in your computer
Restart the infected computer

When you see a table, start tapping the F8 key every second until you enter the Advanced Boot Options

in the Advanced Boot Options screen, use the arrow keys to highlight Safe Mode with Networking , and then press ENTER.

Once the operating system loads press simultaneously the Windows Logo Button and the R key.

A dialog box should open. Type iexplore www.virusresearch.org/download-en

 

your browser will open and a professional scanner will start downloading
Follow the instruction and use the professional malware removal tool to detect the files of the virus.
After performing a full scan you will be asked to register the software. You can do that or perform a manual removal.
To perform Manual removal you need to delete the following files:
Open your Windows Registry editor and navigate to
and the following registry keys:
HKEY_CURRENT_USER\Software\Microsoft\Windows\CurrentVersion\Run""= "%AppData%\.exe"
HKEY_LOCAL_MACHINE\Software\Microsoft\Windows\CurrentVersion\Run""= "%AppData%\.exe"
HKEY_CURRENT_USER\Software\Microsoft\Windows\CurrentVersion\Policies\Associations "LowRiskFileTypes"=".random"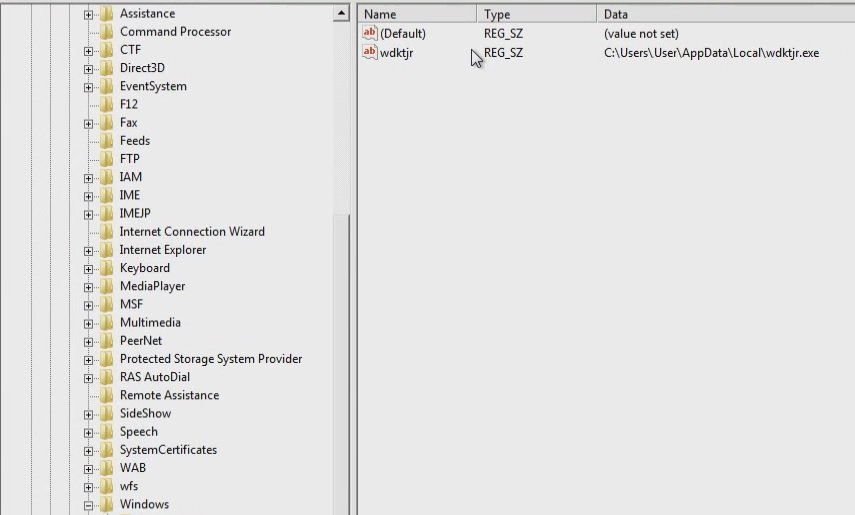 Then open your Explorer and navigate to
%UserProfile%\Programs\AppData\local\wdkjr.exe
and delete it
Use the built in msconfig windows program to make sure you disabled all execution points of the virus. Please, have in mind that the file names in your machine will be different as they are generated randomly, that's why you run the professional scanner to identify the files.
This infection may also damages the Security Center (Wscsvc) Windows service. Once the infection is removed, you should repair these services manually.